For english speaking users
Dear INTERNATIONAL students of SWPS University
Do you have any worries about finding a job in Poland? Do you think that it is impossible to build your career without the knowledge of the Polish language? If so, we would like to invite you to our workshop which will calm you and destroy your doubts about the future!
About SWPS Office of career services
WE ACTIVELY WORK IN 5 CITIES,
in which the SWPS University has its campuses:
WARSAW | WROCLAW | POZNAN | SOPOT | KATOWICE
Our team consists of 15 people:
career counsellors who support students and graduates in finding their talents and planning career path
cooperation specialists between office of career services and employers as well as training session organisation specialists, who support companies and organisations in employer branding events at the university (e.g meetings, workshops, job fairs)
job market experts dealing with job and internship recruitment
office of career services coordinators at local campuses supervising office of career services' effectiveness in terms of student, graduate and employer service
coaches providing professional development workshops
career coaches acting as a support in setting up career goals, forming a career path and current challenges in the workplace
Get know Us
WARSAW
Poznań
Wrocław
Katowice
Sopot
We hear out about expectations and needs from students and graduates who are looking for their dream workplaces, as well as from employers who value candidates' abilities, experience and motivation.

Combining both sides' needs altogether with our team's knowledge, experience, and zeal, we are able to organise following various initiatives:
career counselling and career coaching
business counselling
job placement
potential assessment
obligatory and non-obligatory internships
workshops and training sessions
job fairs and meetings with employers
Meetings with a career counsellor – what can you expect?
During a meeting with a career counsellor, you can talk about your ideas and plans for your future, get to know your strengths and find out about employer's expectations. Moreover, you can also learn about possible training and further education as well as prepare yourself for job seeking.
Career counsellor will help you to:
diagnose your strengths and potential
set up career goals and plan your career
get to know recruitment and employee selection methods
prepare a professional application documents (cv, cover letter) and your profile on social media (LinkedIn)
prepare yourself for a job interview
develop a road map, which will help you in finding your dream job
Who can meet with a career counsellor: Bachelor's Degree students, Master's Degree students, Long-cycle Master's Degree students, Ph.D. students, and graduates.
We have a special offer for students who are currently completing the two last terms of their studies. We prepared a project funded by the European Union; due to that, you can:
take part in a series of individual meetings with career or entrepreneurship counsellors
take part in workshops prepared for those who want to open their own company (Business Manager for those who want to learn the basics of entrepreneurship, Business Projects for those who already have an idea for their company)
take professional predispositions and personality tests
receive support in the job seeking after graduation
take part in coaching or mentoring in a new workplace
WHAT CAN WE DO TOGETHER?
OFFICE OF CAREER SERVICES' COOPERATION WITH SOCIAL AND ECONOMIC ENVIRONMENT
Our various communication channels provide effective information flow from employers to students and graduates. We invite you to meet us as we are sure that successful cooperation can be built on relations. During an individual conversation with our advisor, we will match the right module of cooperation to the needs and expectations of your organisation. If needed, we will also edit the content of the job advertisement. Depending on the organisation's expectation, we will handle the service of events such as a seminar or workshop. Our advisor will guide you through the whole process of organising events for students, starting with a discussion about the meeting's subject, through the preparation of the event and ending with its evaluation. Basing on detailed professional competence profiles, we will match candidates to your job, apprenticeship or internship offer. By organising projects of internships and training sessions inside of the university, experts from your company are welcomed to share their knowledge gained through the years of their work experience. A wide range of our activities gives us an opportunity to monitor job market mechanisms and share information about them. Without a doubt we can do much more - you're welcome to contact us :)
PUBLISHING ADVERTISEMENTS ON KARIERA WEBSITE
Within our kariera.swps.pl website, employers are able to create a profile on their own, publish advertisements and recruit our students. In order to have full access to all the features of the website, it is essential to register through the following link:
kariera.swps.edu.pl/register/employer
.
MEETINGS WITH STUDENTS AND GRADUATES
Experts in their field, years of work experience and readiness to share their knowledge - does this describe your company? If so, you're welcome to contact us! By the consultation process, we will be able to organise a seminar or workshops for our students or/and graduates on a given subject. You're also welcome to participate in the job fairs or conferences/discussion panels organised in cooperation with University's Faculties.
EVENTS IN ORGANISATION'S OFFICE
Are you planning to organise an open day or a workshop? Or perhaps you are planning to invite students and graduates to work on project team members' everyday tasks? We can handle the recruitment process for these events.
EVENTS IN ORGANISATION'S OFFICE
Are you planning to organise an open day or a workshop? Or perhaps you are planning to invite students and graduates to work on project team members' everyday tasks? We can handle the recruitment process for these events.
INITIATIVES WITHIN THE UNIVERSITY SPACE
Are you wondering how to encourage students in an unusual way to be active and get to know your organisation? We will support you in organising an outdoor game or arrange a stand during some events. Our goal is to develop an interest in students about the employer's brand!
ORGANISING APPRENTICESHIPS FOR PSYCHOLOGY STUDENTS
Every organisation interested in joining the system of apprenticeships for students of Faculty of Psychology can enter institutional apprenticeships programme. For more information, please visit the website
praktyki.swps.edu.pl
. In case you want to offer apprenticeships for other programs, please contact us at biurokarier@swps.edu.pl.
BUILDING A POSITIVE, FIRST EXPERIENCE ON THE JOB MARKET
Encouraging atmosphere, cooperation, and readiness to accustom future employees - all this under a watchful eye of a student or/and graduate's mentor? You're welcome to take part in the internship program and join a talent development programme. We can arrange a preliminary candidate selection by looking for students with a certain set of professional competence. During an individual meeting with a student, we will present your company's profile, and as a result of permanent cooperation, we will recommend your company as a workplace for carrying out an apprenticeship.
CONSULTATION
Every organisation is unique. Let's think together how to effectively promote your organisation among the students and graduates. How does a successful job advertisement look like? We read plenty of them every day! We will be glad to share our knowledge with you as well as to help you match the advertisement content to its audience.
COOPERATION WITH THE UNIVERSITY
A university is a large enterprise. We are aware that it might be difficult to find out for which particular faculty is responsible. If you are willing to extend your cooperation with the Office of Career Services to other entities/areas, just ask us about it!
ANALYSES
The range of our activities gives us an opportunity to prepare reports and analyses considering the job market, the need for particular professional competences, and deficient and surplus positions. However, it is only a small part of what we are able to do. In fact, we are able to, and we can do much more. We enjoy challenges and gladly prove ourselves. You're welcome to contact us!
LET'S TALK ABOUT COOPERATION
Special Offer for International Students
If so, we would like to invite you to our workshops which will calm you and destroy your doubts about the future
For how long? Just 2 hours during which we will cover the most popular job-related problems and of course we will answer your questions.
When? We will announce next meeting soon .
What exactly are we going to talk about?
1. What does the Office of Career Services of SWPS University do? How can we help you?
2. How much does it cost? (Psss....Services are for free!)
3. How can you find your way in Poland? A lot of things that may surprise you.
4. Polish labor market
5. How to find English speaking job?
6. Working Scientific Clubs
7. What are the problems which can be met on your way? How can we help you to solve them? 8. And much, much more…!
If we got your attention, please follow this link and sign for our meeting!
Believe us; it would be informative, helpful and fun! See you soon!
PSYCHOLOGY STUDIES – BUT WHAT IS THE NEXT STEP? WHERE AND HOW TO FIND A JOB AFTER GRADUATING FROM PSYCHOLOGY?
HOW TO START?
If you do not have any experience in finding a job, internships or volunteer offers, it may be difficult to find your way without any experience – remember that many students graduate from psychology every year. If you want to convince your potential employer to chose exactly you, an internship in a given field will give you advantage over other candidates. Where can you find some offers?
If you are interested in working in the area of helping people – check out websites such as ngo.pl (internships or volunteering) or psychopraca.net.
If you are interested in business psychology, visit job fairs such as Career Day, AIESEC, JOBICON. This is a great opportunity to talk to representatives of large companies and to find out how does the career path looks like and what they expect for candidates.
In the spring of each year (March – May), large organizations announce recruitment for internship programs lasting several months. Information about them can be found on the websites of these companies and on the Career program page.
You can also contact the company or organization in which you want to gain experience and ask about the possibility of an internship,
You can also look for volunteer offers by yourself on the Volunteer Center website.
You can contact the Office of Career Services of the SWPS University and get additional help finding for the best opportunity to acquire competences.
WHERE CAN YOU FIND A JOB OFFER?
Additionally to searching on Internet pages from the previous paragraph (ngo.pl, psychopraca.net), you can use social media. There are many groups on Facebook: Work for psychologists!; Work for a psychologist, psychotherapist, students…; Work in HR - job offers, career ; Work in Social Media.
The Office of Career Services of the SWPS University runs the service where you can fill information about yourself: www.kariera.swps.edu.pl
We also run a Facebook group where we publish job and internship offers: SWPS University Office of Career Services on Facebook
Also, it is great and easy opportunity to create your account on LinkedIn to help you find your dream job or search the available job offers for Psychologists.
TIPS & TRICKS
Specializations that are currently the most interested for business are specializations related to new technologies. Such field become more popular every day and uses to be an important field in each huge organization today. The knowledge of them gives you the opportunity to work as an information architect, advertising graphic designer, online games or website designer, marketing strategist or User Experience specialist.
For any professional way that you chose it would be helpful to have knowledge of at least one foreign language at the level of min. B2. For many companies, this is even more important than the skills and theoretical knowledge after graduating.
Psychological studies are rarely the last stage of education. Especially in the area of clinical psychology, one has to take into account the need to undertake further studies or trainings (School of psychotherapy, clinical specialization, postgraduate studies). That is good idea to participate in some additional courses and educational programs in order to improve your knowledge in one sphere and to have more knowledge in a given approach.
If you do not know what the job opportunities are after a particular specialization or in the industry that interests you. Do you need support in determining your skills and strengths? Do you need help creating your CV? You can make an appointment with a career advisor at the Office of Career Services of the SWPS University. Write to the following address: biurokarier@swps.edu.pl

Alumni's Story: Workplace and Wellbeing Lead
/For English please read below/
Serdecznie zapraszamy na spotkanie z Panią Margaritą Kurylko, absolwentką Filologii angielskiej, które odbędzie się w najbliższy czwartek 13. lutego 2020 roku o godz. 16.30 - 18.00, sala S102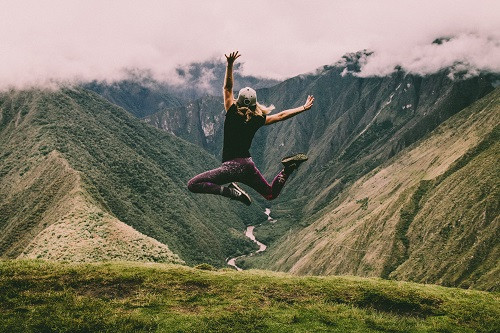 Podczas wydarzenia uczestnicy będą mieli okazję:
trenować umiejętności przydatne w pracy specjalisty zajmującego się atmosferą oraz dobrostanem pracowników międzynarodowej organizacji
poznać wskazówki dotyczące rozwoju zawodowego w obszarze Workplace & Wellbeing
Zapraszamy zarówno studentów, jak i absolwentów oraz wszystkie osoby zainteresowane
Zapraszamy Zespół Biura Karier
---------------------------------------
What you can expect during the meeting?
The event is prepared to gather students and alumni to inspire, share the knowledge and present potential career paths.
If you decide to spend this afternoon with us you will have an occasion to get to know:
1. The beginnings and 'My Story'
2. Practical task
3. Essential skills & opportunities to develop
We have an honour to introduce you one of Alumni of SWPS University:
Margarita Kurylko - Workplace and Wellbeing Lead Experienced Internal Employee Trainer with Training and Development background. M.A. graduate of English Philology in Business Communication in University SWPS.
LinkedIn profile: https://www.linkedin.com/in/margarita-kurylko-bb7b03146/
Let's meet: on the 13th of February 2020 at 4.30 - 6.00, room S102
Please remember to reserve your seat - the number of places is limited.
The event is organized by The Office of Career Services of SWPS University

Podsumowanie warsztatu: Alumni's story workplace and well being lead
#absolwenci #biurokarieruniwersytetuswps #absolwenciuniwersytetuswps
Serdecznie dziękuję za obecność i aktywny udział w warsztacie dotyczącym planowania i organizowania wydarzeń wspierających wellbeing pracowników w miejscu pracy.
Drodzy studenci, gratulujemy Wam pomysłów oraz mamy nadzieje, że to spotkanie stanie się być może początkiem ciekawej drogi zawodowej dla części z Was.
Pani Margaricie Kurylko serdecznie dziękujemy za chęć podzielenia się swoim doświadczeniem z naszymi Studentami.
To prawdziwa przyjemność móc z Panią współpracować i podziwiać Pani profesjonalizm.
Bardzo ciekawe i angażujące spotkanie! Mamy nadzieje na kolejne działania już niebawem ✨
-----------------
Dear Students, thank you for attendance, engagement and sharing your ideas during the workshop ✨
Ms. Margarita, thank you for sharing your knowledge and experience!
That was a really good time!

Korn Ferry Day: Start your journey with recruitment today
Dear Students,
During the event you can learn about:
1. How to crack an interview and recruitment process
2. Developing skills about business communication which would be helpful in your career aspects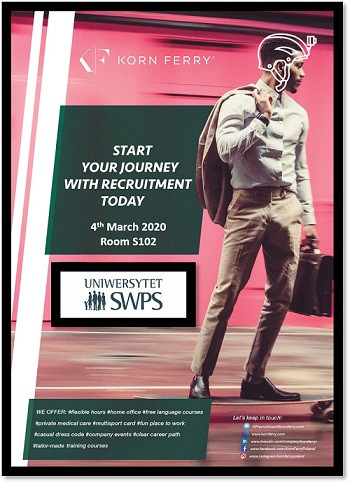 The program of the KornFerry Day:
9:30 – 12:00: New age of recruitment
12:00 – 1:00: Break
1:00 – 3:30: Professional communication and Business Standards
3:30 – 4:30: Q&A or Meet up sessions
Let's meet: on the 4th of March 2020, room S102
Please remember to reserve your seat!
See you there!
Office of the Career Services

Teleperformance: Positive Language in business comunication
W trakcie tego dnia będziecie mieć możliwość poznać:
1. znaczenie stosowanego pozytywnego języka w trakcie negocjacji, w budowaniu marki osobistej oraz w codziennej komunikacji biznesowej
2. poznać aktualne oferty pracy w firmie Teleperformance

Wydarzenie odbędzie się 10. marca w godzinach 9.30 - 16.00
Program dnia z marką:
Warsztat: 'Positive Language in business communication', warsztat w języku angielskim
9.30 - 11.00 sala S102
Liczba miejc: 30
Wymagana jest wcześniejsza rejestracja i potwierdzenie: https://forms.gle/bNTYgnvRNGsmFaDs6
Porozmawiaj z rekruterem i poznaj aktualne oferty pracy w firmie Teleperformance, stoisko promocyjne
11.00 - 16.00 Hol główny
Przygotuj swoje CV i przyjdź porozmawiać z rekruterem!
Więcej o marce możecie dowiedzieć się ze strony: http://www.teleperformance.pl/en-us
Do zobaczenia!
Zespół Biura Karier Uniwersytetu SWPS
-------------------------------------------------
Dear Students,
hope you will join us during the open day with Teleperformance
During the event, you will have an occasion to get to know:
1. the meaning of positive language in negotiations, personal branding and in a daily business communication
2. open positions in Teleperformance
The event will take place on the 10th of March 2020 at 9.30-4.00

The program of Open Day:
Workshop: Teleperformance: 'Positive Language in business communication', the workshop will be held in English
9.30-11.00 Room S102
Number of seats: 30
Please reserve your seat before the event and wait for a confirmation: https://forms.gle/bNTYgnvRNGsmFaDs6
Meet recruiters and open positions in Teleperformance, promotional stand in the main hall
11.00-4.00 p.m. main hall
Please prepare your CV and take an advantage to talk with the recruiter!
More about Teleperformance: http://www.teleperformance.pl/en-us
See you there!
Office of the Career Services

What to write? What to add? What to say?
It was only the first step to finding your career. There are a lot of interesting things ahead! That is why we are pleased to invite you to our second seminar, which will take place on 11th March, 15.00, room S102
We will discuss:
instructions, tips and useful suggestions on how to create your CV,
what to write in a cover letter and how to show yourself during an interview.
If you have not yet joined us, you have a unique opportunity to become a member of our company of "builders" where you will learn how to build your future.
During the workshop, we will create a real groundwork for your career in Poland.
What exactly are we going to talk about?
We will shortly remind you about what does Office of Career Services of SWPS University do? How can we help you?
Structure of CV 3. How to find information about yourself which needs to be included in your CV?
What information is the most important and what employers are looking for?
What is cover letter? When is it necessary to be included and how to write it properly?
You have been invited to an interview. What to say, how to look and how to show yourself (brief introduction)?
And much, much more….
When? March 11th, 15.00 (3 pm), room S102
If we got your attention, please follow this link: https://forms.gle/eML3PUg8kAyhyk7w9 and sign for our meeting
Believe us; it would be informative, helpful and fun!
See you soon!

Informacja w związku z odwołaniem zajęć na Uczelni / Information in connection with the cancellation of classes at the University
Jesteśmy do Waszej dyspozycji za pomocą komunikatorów Skype i Hangout. Osoby, które przed 22 marca umówiły się na spotkanie z osobami z Biura Karier otrzymają indywidualne zaproszenia na spotkania online. Oczywiście jesteśmy również gotowi przenosić terminy spotkań na czas po zakończeniu okresu ochronnego.

Zgodnie z postanowieniem Rektora Uniwersytetu SWPS wszystkie wydarzenia organizowane przez Biuro Karier, w tym warsztaty, oraz spotkania z pracodawcami planowane przed 22 marca przenosimy na inne terminy.
Dziękujemy za Wasze zrozumienie i cieszymy się, że możemy Was wspierać w rozwoju Waszych ścieżek kariery.
Pozdrawiamy
Zespół Biura Karier Uniwersytetu SWPS
ENGLISH VERSION
Dear students
For the sake of your safety and health, as well as to meet the needs of your professional development, the Career Office of the SWPS University informs that by March 23, or the day when you start classes again at the University, we change the form of contact, and individual consultations as part of Career offices will be held primarily in the on-line form.
We are at your disposal via Skype and Hangout. People who before March 22 have arranged to meet people from the Career Office will receive individual invitations to online meetings. Of course, we are also ready to postpone the dates of meetings after the end of the protection period.
In accordance with the decision of the Rector of the University of Social Sciences and Humanities, all events organized by the Career Office, including workshops, and meetings with employers planned before March 22 are moved to other dates.
Thank you for your understanding and we are glad that we can support you in the development of your career paths.
Greetings
Career Office Team SWPS University

EU Careers Student Ambassadors
As part of the experience, you will be able to:
Find out more about EU Career opportunities and promote them to your fellow students
Build a fantastic student network across Europe
Gain work experience during your studies that will give your CV extra weight
Develop your skills in public speaking, marketing and HR
Receive a full induction training and coaching throughout the role
Access to high-ranking EU officials A reference letter based on your performance
We are looking for motivated, outgoing people with enthusiasm to promote EU Careers in your university. As a highly regarded employer of top graduates, EU Careers is looking for brand ambassadors at some of Europe's finest universities.
The EU Careers Ambassadors scheme involves finding innovative ways of promoting the great opportunities the EU institutions have to offer, including through:
attending careers fairs, or giving presentations to your fellow students
developing university networks and providing information
maintaining an active online and social media presence
answering questions about EU Careers
Do you want to hear about the EU Careers Ambassadors' first hand experience?
Who we are looking for? We are looking for motivated Ambassadors who want to promote the benefits of an EU Career and have the following competences:
Excellent communication skills
Networking skills
Willingness to share and learn
Ability to adapt
Good organisational skills
Ability to deliver quality and results I
nnovative and creative approach Resilience
Minimum Requirements:
Commit at least two hours per week to your Ambassador role
Arrange or participate in a minimum of one EU Careers event or presentation
Communicate on a regular basis with your EU Careers coordinator
Participate in all training offered (online)
Keep a log of your activities and report back regularly
How to apply If you are:
An EU citizen
Fluent in English and in one of the languages of the country in which you are studying
Available to take part in our compulsory one day training course in October 2020
Enrolled and present at the university for the duration of the Ambassador's post (October 2020 - September 2021)
You can make an online application between 20 February to 20 March 2020.
Please fill in the following form to submit your application. If you successfully pass the first round, you will be asked to complete an online interview in April 2020. More information on this second phase will be sent to selected applicants via e-mail.
Please note that the list of participating universities has been established in collaboration with national governments. Currently we are unable to support Ambassadors at other universities and generally we do not change this list.
Contact If you have questions please don't hesitate to contact us at: EPSO-CAREERS-AMBASSADOR@ec.europa.eu

Praca Biura Karier w okresie #zostanwdomu
For English version please read below
Szanowni Studenci, Szanowne Studentki,
pomimo konieczności ograniczania bezpośrednich spotkań pragniemy poinformować, że Biuro Karier Uniwersytetu SWPS działa w trybie online.
Oznacza to, że wszystkie planowane konsultacje odbywają się w usłudze Hangouts, do której wszyscy studenci i studentki Uniwersytetu mają dostęp poprzez pocztę Gmail.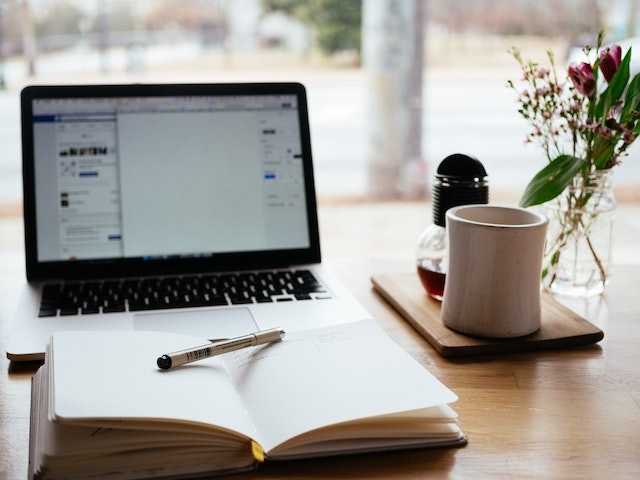 Dla tych z Państwa, którzy z jakiś powodów nie będą mogli połączyć się w tej usłudze - zachęcamy do mailowego lub telefonicznego kontaktu z zespołem Biura Karier.
Zachęcamy do tego, aby w tym szczególnym czasie pozostać aktywnym również w obszarze poszukiwania pracy, praktyk lub stażu.
Firmy i Organizacje zapewniają nas o tym, że mimo przeniesienia procesów rekrutacyjnych do wirtualnych pokoi spotkań (w tym również rozmów rekrutacyjnych) - nadal oczekują na Wasze aplikacje. W części firm oficjalne rozpoczęcie pracy może być przesunięte w czasie.
Z poważaniem
Zespół Biura Karier
Dear Students,
despite the need to limit direct meetings, we would like to inform you that the Career Office of the SWPS University is operating online.
This means that all planned consultations take place in the Hangouts service, to which all University students have access via Gmail.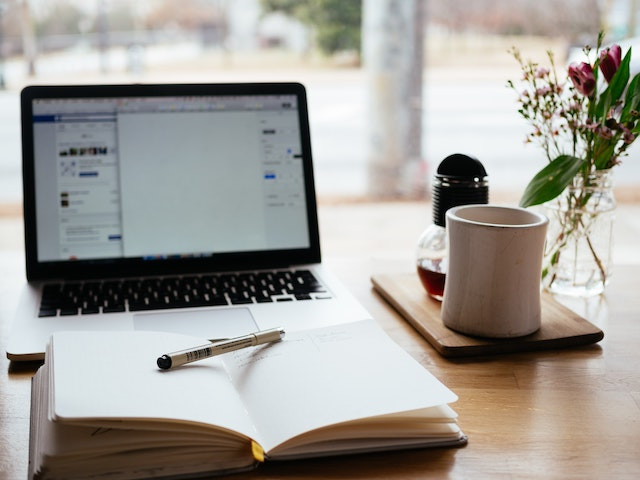 For those of you who for some reason will not be able to connect to this service - we encourage you to contact the Career Office team by email or phone.
We encourage you to remain active at this time, also in the area of looking for a job, apprenticeship or internship.
Companies and Organizations assure us that despite the transfer of recruitment processes to virtual meeting rooms (including recruitment interviews) - they are still waiting for your applications. In some companies, the official start of work may be postponed.
Kind regards,
Office of Career Services