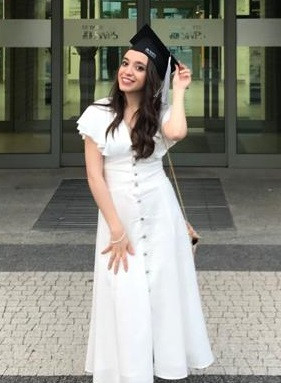 What made you choose the SWPS University and the field of study?
It was a coincidence that I found SWPS university but was lucky enough since it was one of the leading universities in the domain of Psychology. What made me choose this field is the fact that I'm of Syrian origin and was raised in KSA. This made me realize that this field isn't credited enough in the Arab region. Especially since my country is in war, I thought this field will allow me to help refugees and survivors.
How do you remember your studies at SWPS University?
They were good. Apart from my studies, I was also involved in student activities. So it was a fruitful and enjoyable experience.
WHAT WAS YOUR CAREER PATH SO FAR? / PLEASE, DESCRIBE YOUR CAREER PATH SO FAR.
Right now, I am working as an Arabic Localization Tester at Lionbridge Poland. Through my work, I have to make sure if certain products (videos, games, films, etc.) are appropriate to be installed or released in the Arabic market based on the cultural perspective and societal acceptance of the product.
Is the job that you are currently doing relating to your field of study?
More or less as it has to do with intercultural psychology. You need to be aware of cultural differences and sensitive to certain issues.
If you had the opportunity to advise something useful students interested in a similar career path, what would it be?
Regarding the studies, it is a great path. The professors at the university are highly qualified. The atmosphere is nice, the students come from all over the world so it is easy to make friends and share knowledge and experience. Regarding my current career, I had to take a gap year due to financial situations. The career I am currently in provides enough financial support so I can pursue an MA degree.